Hello parents of Rockets, tomorrow March 17 Rockets will end at 4 pm. Van will run at 4...

Friendly reminder for All parents. This week is parent teacher conferences. So, everyday this week the school will be released at 1:30 If you have any questions please call the office.
Reminder: ski trip tomorrow for those who are attending. It is also parent conference week minimum day every day and Tuesday we do not have bus service.
Morning Happy Camp Elementary will be on a two hour delay. Classes will start at 10
Attention, parents and community members of Happy Camp Elementary, tonight's board meeting has been canceled. It will be rescheduled for Tuesday, March 14.

Parents of Rockets students. Due to weather conditions, please come and pick up your children. Van runs are canceled due to weather. Sorry for the short notice.
Hello all, today March 1st 2023. There is school today!
Today 2/28 is a snow day, hopefully we will see you all tomorrow. Please be safe out there..
Today 2/27. Is a snow day! Please be safe out there.
Delayed start today. School will open up at 9:30. Bus run will start at nine.
Attention, all parents who would like to watch the tournament live stream. If you go to our website, there is a link. I will try to post it in this push notification as well.
Hello Happy Camp parent of rockets just a reminder Rockets will end at 4:30 today. Van run will be at four.
Hello Happy Camp Elementary Parents, this message is for our bus riders and skiers Gary will not be able to pick you up tomorrow AM. but Brian will use the van to take you home. Sorry for the inconvenience. Again no AM bus pickup 2/15. If you are planning to attend our ski trip 2/27, 3/13, or 3/27 tomorrow is the last day to sign up. If we have enough skiers or boarders we can make this trip happen. For more info call the office!!!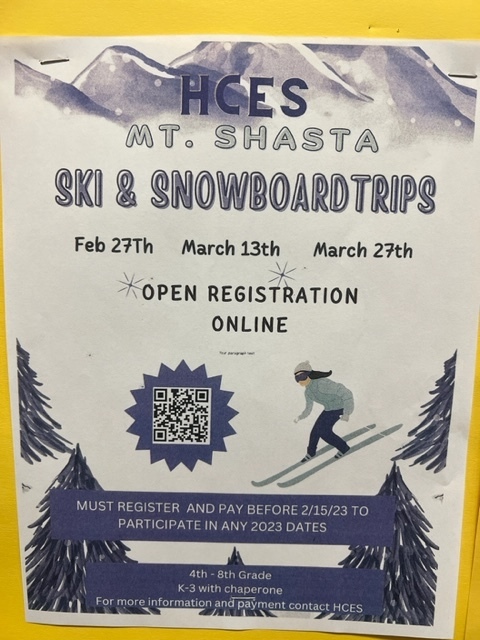 I will open School at 8 o'clock. If you really need to drop your kids off, they will be in the cafeteria until we get fully staffed. But be prepared to come pick up your child if we need to close the school for the day.
Good morning Happy Camp Elementary students and staff. We will have a two hour delay for school. Gary said he will be leaving school to pick up kids at 9.00. Please take it easy on the roads. We will open up the school at 8 o'clock.
Attention parents of Rocket students, there is a home game tonight so pick up will be at the high school.
There will be van runs for Rockets today, but no bus run.
Hello Happy Camp parents of todays bus riders. Due to an emergency Gary has to attend to, there is no afternoon bus service today. Sorry for the inconvenience, I do not know if there will be van rides for Rockets. I will update you as soon as I know. If you do not hear from me, there will not be vans picking up students from the High School.
Hello Parents, Today is a Basketball home game. All Rocket students will be there. Vans will run from the High School. Please pick you child up before 5. Thank you. Also, Thank you for being accommodating yesterday as we scrambled to fill teacher positions as we had four teachers out. Today is better with only one out. I have Karen Mix as my substitute when I am absent. She is very qualified with a teaching and has an admin credential. She was there in classrooms helping teach. Please stop by and introduce yourself to her. I want to thank my staff for stepping up and filling positions. Thanks again, Mr Cooper